Music Schedule
The Painesville Party in the Park is Ohio's largest free music festival.  Featuring over 30musical acts on the 3 stages, featuring up-&-coming local acts, award winning Cleveland musicians and national touring acts from all reaches of the US including California, New York, New Orleans and more.  The Party in the Park strives to provide a very unique musical experience by bringing together musical acts of many different genres including Rock, Reggae, Jazz, Funk, Pop, Indie, Folk, Rock-a-Billy, Country, Classic Rock, Jam Bands, Latin, Soul, Bluegrass and more!  With a new band going on stage almost every hour from noon till midnight there is something for everyone to enjoy at the PPITP so come on out and join the Party!
Click on a band below for bio, pics and websites.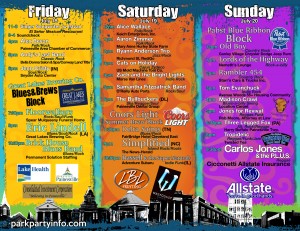 Click here for printable version of schedule
2014 Band Schedule
We would like to thank our back stage caterer, Harry Buffalo – Painesville TWP.